Beginner Kids Karate Classes Enrolling In February
The Kids Karate classes at Talamantez Karate are the ideal introduction to the exciting world of karate for kids. At Talamantez Karate, we cater to kids of all ages and we strive to make it fun for your child to learn martial arts and develop important self-defense skills that all kids need!

Get your kids off the couch and onto the mat to learn karate from our dedicated instructors. We're experts at teaching kids all the exciting karate moves, from speedy chops to powerful kicks that your kids are bound to love!
A LIFETIME OF BENEFITS AWAIT YOUR CHILD
At Talamantez Karate, we have a class that's right for your kids. Whether they're just starting out or whether they've on their way to a black belt, our instructors will help your kids learn more about the martial arts than you thought possible!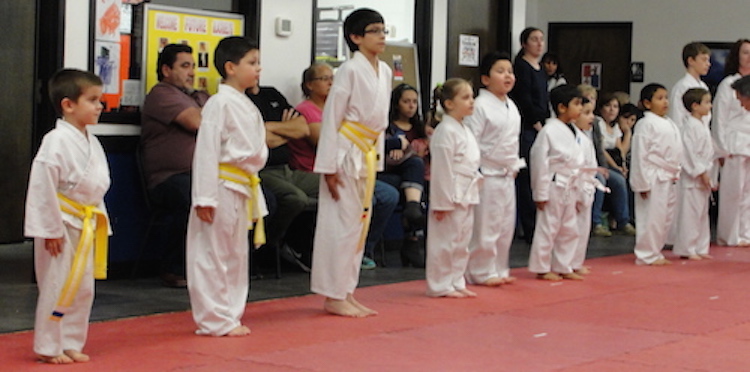 But we don't stop at a great workout and top-notch self-defense skills. Our Kids Karate program will help you child feel like a champ, too, as your son or daughter gets a huge confidence boost training with our veteran Kids Karate instructors. In fact, our Kids Karate program will give your child a world of benefits unavailable from any other extracurricular activity! Just take a look:
A newfound appreciation for physical fitness
Character-building exercises and leadership skills for a bright future
Build strong muscles and stay fit
Learn goal-setting and celebrate achievements
Unbreakable focus and listening skills that will lead to better grades in school
Anti-bully self-defense skills that will keep your kids safe
Lessons on dealing with strangers and handling unwanted advances
AN AFFORDABLE PROGRAM WITH PRICELESS RESULTS
We hear from parents all the time that they can't believe the huge difference they notice in their children. From improved behavior to heightened confidence and positive attitudes, we're sure your kids will benefit beginning with their very first class.
Go ahead and fill out the brief, no-obligation form on this page. When you do, we'll provide you with everything you need to jump on this incredible life changing opportunity for your kids.